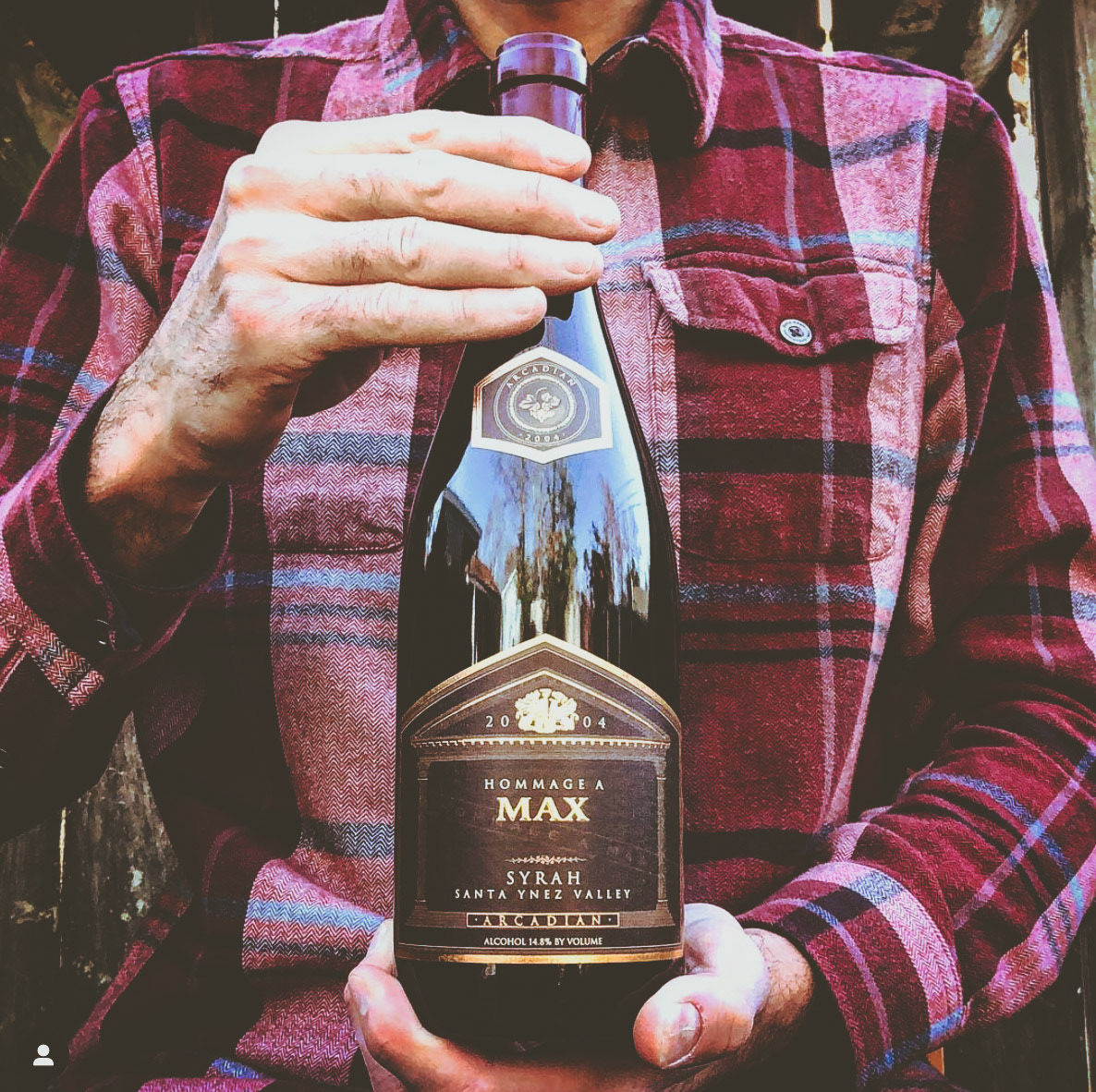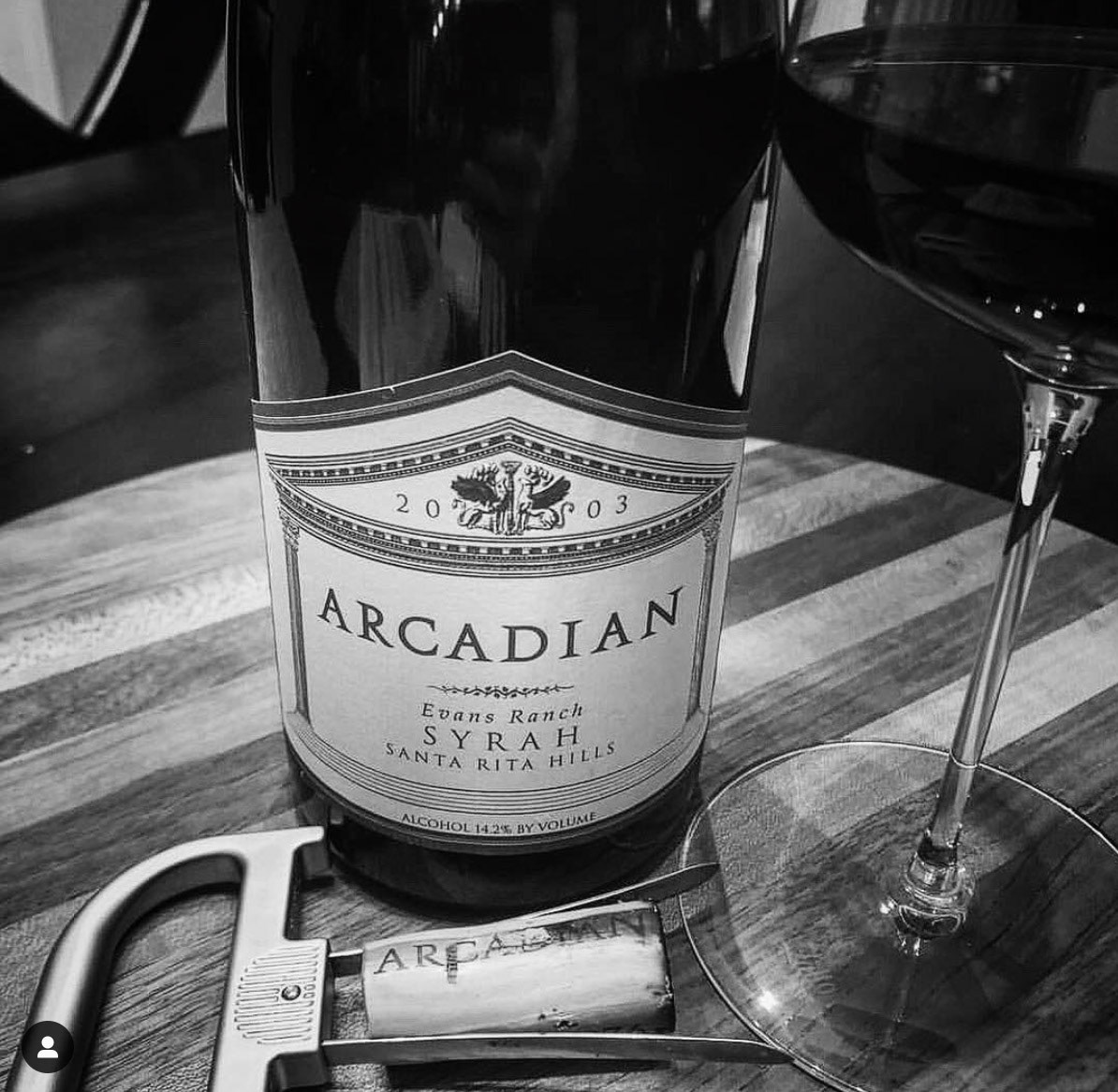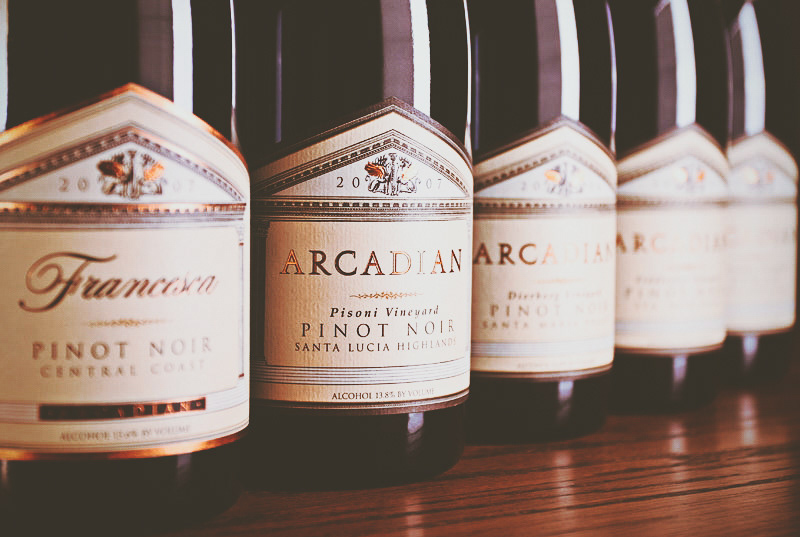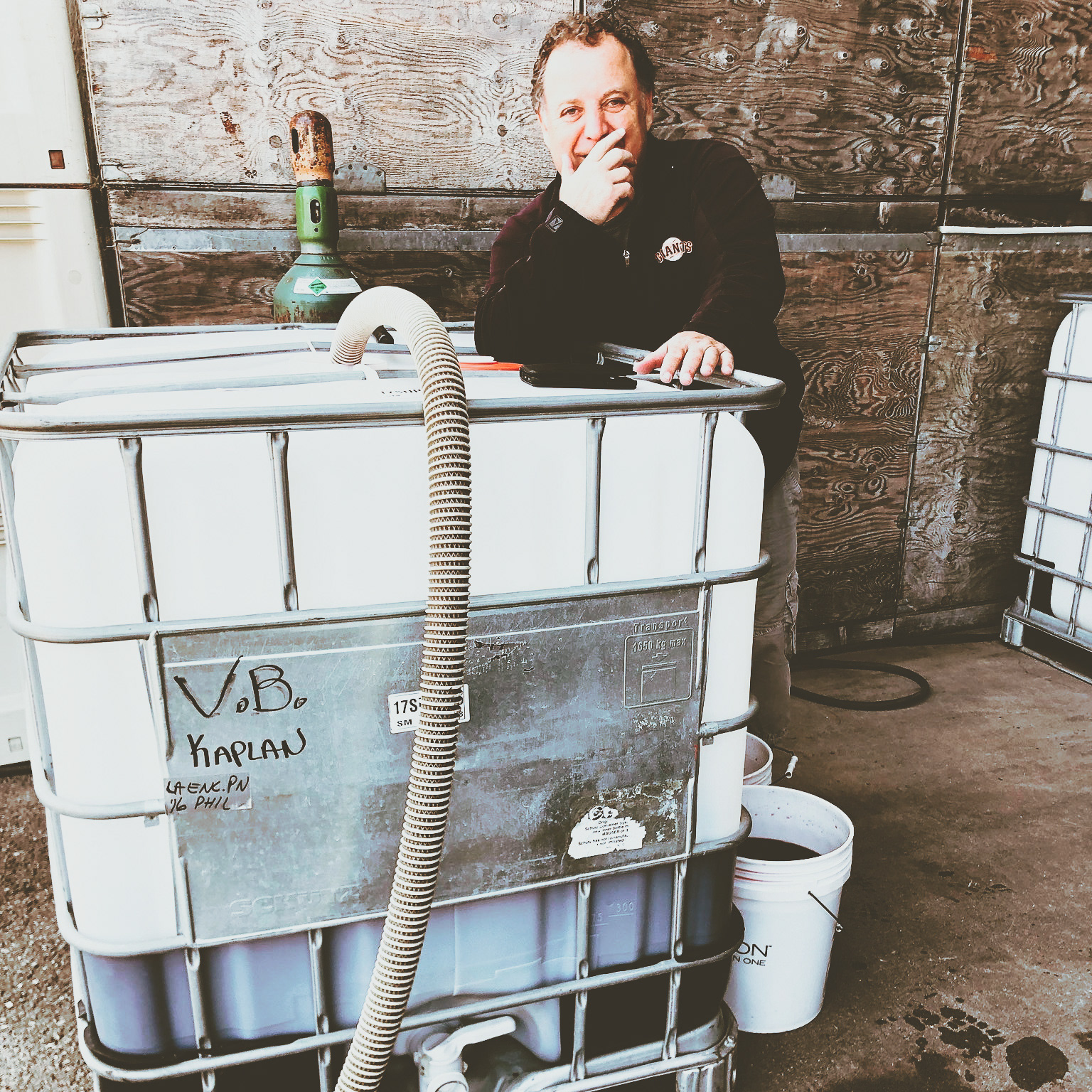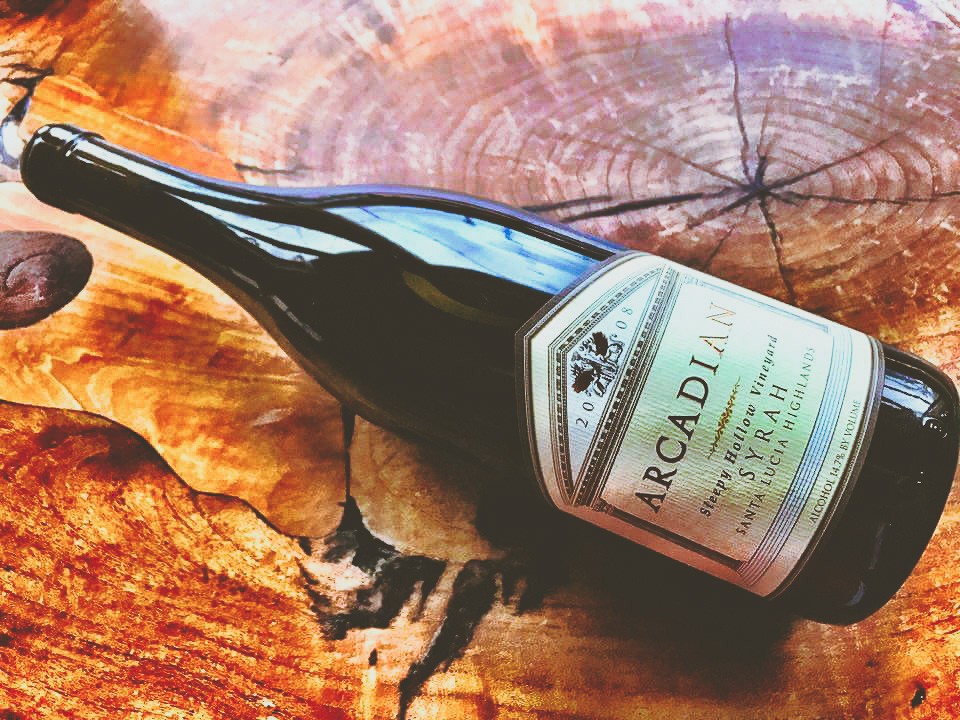 Inspired by the great traditions of Burgundy, Joseph Davis has been making Arcadian Pinot Noir, Chardonnay and Syrah in California's Central Coast since 1996. Using French artisanal methods and hands-on vineyard management, Joe's Arcadian label consistently receives high marks from the world's most respected wine writers. Traditionally, Joe harvests fruit with more modest sugar levels and higher natural acidity than many of his fellow growers. The belief that Arcadian wines will continue to evolve in the bottle for years to come and that this will ultimately produce a much moreinteresting wine is what drives Joe's philosophy.
Like most passionate wine enthusiasts, a great epiphany led Joe Davis to his calling as a winemaker. While in college on an athletic scholarship, Davis, the son of a Monterey California fishing family, took a job in a wine shop. One Christmas, a good customer brought Joe a gift of a 1978 Clos de la Roche Grand Cru, Domaine Dujac. One sip and he was completely taken with the flavor and sheer deliciousness of the wine, "To have winemaking as a life pursuit and to make wine like this," he thought, "would be the most incredible persuit in the world." And so his quest began. Joe voraciously read everything he could find wine related and enrolled in UC Davis' graduate program. In 1984, he met and went to work for Dan Lee of Morgan Winery. While primarily making award-winning Chardonnay, Davis never lost sight of that fantastic Burgundy and in 1986, he convinced the proprietors of Morgan Winery to incorporate these traditional old world methods in the production of Pinot Noir.
Early in his career, Joe Davis was determined that implementing the French artisan, traditional methods of wine making and vineyard management would produce wines of elegance, finesse and place. Davis also felt that the cool coastal regions of central California were well-suited to producing fine Pinot Noir.
His original plan included techniques Davis applies today to his Arcadian Winery Pinot Noir; whole cluster fruit is handpicked and sorted early in the day to ensure chilled fruit. It is sorted again after arriving in the winery and allowed to cold soak for 48 hours to arrest any premature fermentation. This allows the juice to extract as much possible color and tannin from the grape skins. Fermentation occurs in small open-topped wooden vats. The grapes are pigeaged (foot treaded) 3 to 5 times daily to further extract color, tannin and richness and are pressed when sugar levels reach 1 to 2. The wine completes fermentation in barrel, is aged in a combination of new and older  French oak, and bottled without fining and filtration.
"Obviously, not all vintages are the same, the recipe might change, but by using these methods consistently, I impart a common thread among my wines that translates into my style" says Davis. He employed these procedures for all of his Pinot Noir vintages (1986-1994) at Morgan and then took this knowledge to a General Manager position at Bernardus Winery. Finally, in 1996, on his own and ready to fulfill his dream, he released Arcadian Winery's first vintage of Chardonnay to rave reviews.
Utilizing his 35 years of experience, following his instinct and creating Burgundian style Pinot Noir, Chardonnay and Syrah allows Joe Davis the complete realization of his dream. His mission remains to make wines that fully express the uniqueness of the vineyard and the region while capturing the voluptuous flavor of the grape and the kiss of cool California breezes and warm sunshine.
2008 Sleepy Hollow Chardonnay ~ Light gold. Intensely perfumed aromas of poached pear, vanilla and coconut, with a toasty lees accent building in the glass. rich, fleshy,and surprsingly energetic on the palate, offering a vibrant tropical and orchard fruit flavors and notes of buttered toast and anise. Closes smooth and long, with lingering smokiness and an exotic hint of passion fruit.
2011 Clos Pepe Chardonnay ~ The 2011 Clos Pepe Vineyard is superb, Graphite, candied lemon, mint, orange blossom, and butter are some of the signatures. Even with all its intensity and the richness that comes from four years in oak, the 2011 retains striking freshness. bracing underpinnings of salinity add a kick of brightness on the super expressive finish.
2012 Clos Pepe Chardonnay ~ Green golden yellow color of medium depth. medium plus richness. Medium acidity, fairly rich, a tad buttery, lite oak, wooly mineral on the finish.
2011 Clos Pepe Pinot Noir ~ The 2011 Clos Pepe is Terrific!  Brite red purplish fruit, sweet spices, mint, licorice, and lavender are front and center. Delineated and vibrant, but with striking mid-palate pliancy and purity of fruit. Another winner from Arcadian. This is especially restrained, understated Sta. Rita Hills Pinot.
2008 Pisoni Pinot Noir ~ Color is translucent gernet with noticeable fading at the edge by this point; beautiful in the glass. Nose of fresh ripe red fruits, 5 spice, forrest floor,and barnyard/game meats. Palate is med. bodied with tart red fruit and spice confirmed and smooth soft tannin.
2008 Francesca Pinot Noir ~ (Made from a barrel each of Pisoni,Fiddlestix and Sleepy Hollow wine) Deep red. An exotically perfumed nose displays scents of raspberry, cherry -cola pungent herbs, potpourri and smoky minerals. Fleshy and sweet but also sharply focused, with a suave floral accent ti its red berry componant and spice cake flavors. Inpressively lush and broad but lively, finishing with silky tannins and excellent floral-driven persistance.
2009 Francesca Pinot Noir ~ Another staller wine under this moniker. The 2009 Francesca is a selection of the best barrels from Sierra Madre Vineyard. With less than 100 cases produced this is sold primarily in the Tasting room and to our wine club members.
2009 La Encantada Pinot Noir ~ The 2009 La Encantada is laced with game, smoke, tobacco, dried flowers and a host of other aromas and flavors that are typical of cool-climate sites such as this one. Soft and lilting on the palate, the 2009 is an excellent choice for drinking over the next few years. Dried rose petal , sweet red cherry and licorice add the closing shades of nuance. The high amount of whole clusters contributes to the wine's  super distinctive, floral/savory profile.
2007 Purisima Syrah ~ The 2007 Purisima is one of the wilder wines in this range of Syrahs. Bright red fruit, anise, fennel, tobacco, and pine all seem to jump from the glass in a wine that is all about delineation and focus. Hints of tobacco, and savory herbs add further nuance on a bright chiseled finish underpinned by a surprising amount of minerality and pure salinity.
2008 Sleepy Hollow Syrah ~ Opaque purple. Cherry, dark barries, wood smoke, and leather on the nose, with a suggestion of cured meat coming up with air. Sappy sweet with a wild streak, offering ripe blueberry and mulberry flavors and notes of beef jerky and bitter chocolate. In a decidedly funky style, with good finishing punch, dusty tannin and subtle floral finish.
2008 Stolpman Syrah ~ Brilliant ruby-red. Smoky, deeply pitched, black, and blue fruits on the nose with complicating cracked pepper and olive nuances; smells like a ripe northern Rhone wine. Stains the palate with floral-accented blueberry and bitter cherry flavors lifted by a spice nuance. Finishes smoky, sweet, and very long, with resonating floral and slow building tannins.
2007 Hommage A Max Syrah ~ The 2007 Syrah Hommage A Max is dense, rich, and powerful. A wine of unusual delineation and finesse, the 2007 flows across the palate and an exotic melange of black cherry, spices, white flowers, and mint, all woven together beautifully. The 100% new French oak barrels are barely perceptible, such is the wines purity and balance. This unique and highly personal wine from Joe Davis is loaded with personality.
2001 Gary's Syrah ~ Still absolutely stellar, actually seemed more fruit forward than previous bottles. Gorgeous nose and really delicious 94 points Aunt Esther. WOW! This just keeps on getting better. Delicious dark berries, floral, and earthy aromas on to the layers palate with delicious acidity and pepper notes. A very long finish. 96 points PJ HR
2004 Hommage A Max Syrah ~ For this, the second vintage of Hommage MaX, the blend comprises 33.3% Westerly clone 174, 33.3% Westerly clone 877, 16.6% Westerly clone 383 and 16.6% Stolpman clone T99.  These barrels were chosen because they were the best examples from each site and they met the criteria I had set.
2003 Pisoni Pinot Noir ~ The harvest of 2003 was characterized by two significant conditions at Pisoni Vineyard.  The first had to do with weather and the second water.  Initially, the weather was defined by a cool, wet spring which resulted in a small high quality crop with intense flavors and uniform richness.
2002 Francesca Pinot Noir ~ For this, the third vintage of Francesca, I selected one barrel from the Pisoni Vineyard, one barrel from the Dierberg Vineyard and one barrel from the Fiddlestix Vineyard.  These barrels were chosen because they were the best examples from each site and they met the criteria I had set.