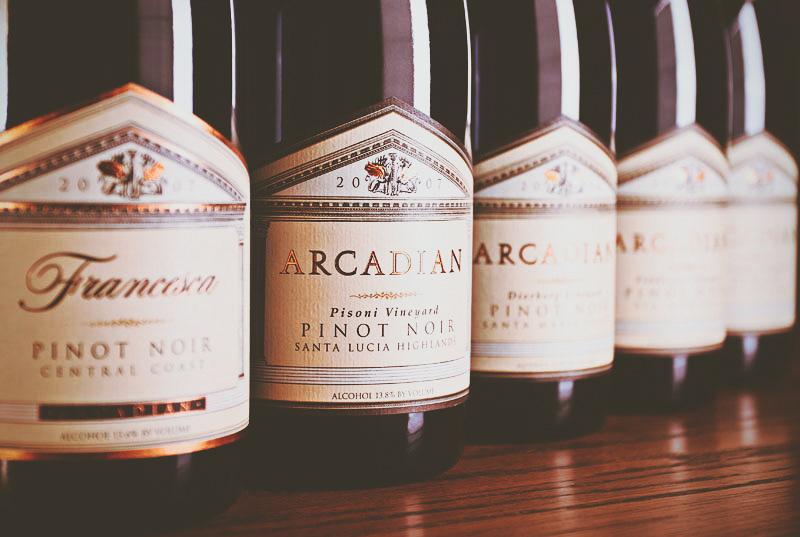 Inspired by the great traditions of Burgundy, Joseph Davis has been making Arcadian Pinot Noir, Chardonnay and Syrah in California's Central Coast since 1996. Using French artisanal methods and hands-on vineyard management, Joe's Arcadian label consistently receives high marks from the world's most respected wine writers. Traditionally, Joe harvests fruit with more modest sugar levels and higher natural acidity than many of his fellow growers. The belief that Arcadian wines will continue to evolve in the bottle for years to come and that this will ultimately produce a much more interesting wine is what drives Joe's philosophy.
Like most passionate wine enthusiasts, a great epiphany led Joe Davis to his calling as a winemaker. While in college on an athletic scholarship, Davis, the son of a Monterey California fishing family, took a job in a wine shop. One Christmas, a good customer brought Joe a gift of a 1978 Clos de la Roche Grand Cru, Domaine Dujac. One sip and he was completely taken with the flavor and sheer deliciousness of the wine, "To have winemaking as a life pursuit and to make wine like this," he thought, "would be the most incredible pursuit in the world." And so his quest began. Joe voraciously read everything he could find wine related and enrolled in UC Davis' graduate program. In 1984, he met and went to work for Dan Lee of Morgan Winery. While primarily making award-winning Chardonnay, Davis never lost sight of that fantastic Burgundy and in 1986, he convinced the proprietors of Morgan Winery to incorporate these traditional old world methods in the production of Pinot Noir.
Early in his career, Joe Davis was determined that implementing the French artisan, traditional methods of wine making and vineyard management would produce wines of elegance, finesse and place. Davis also felt that the cool coastal regions of central California were well-suited to producing fine Pinot Noir.
His original plan included techniques Davis applies today to his Arcadian Winery Pinot Noir; whole cluster fruit is handpicked and sorted early in the day to ensure chilled fruit. It is sorted again after arriving in the winery and allowed to cold soak for 48 hours to arrest any premature fermentation. This allows the juice to extract as much possible color and tannin from the grape skins. Fermentation occurs in small open-topped wooden vats. The grapes are pigeaged (foot treaded) 3 to 5 times daily to further extract color, tannin and richness and are pressed when sugar levels reach 1 to 2. The wine completes fermentation in barrel, is aged in a combination of new and older  French oak, and bottled without fining and filtration.
"Obviously, not all vintages are the same, the recipe might change, but by using these methods consistently, I impart a common thread among my wines that translates into my style" says Davis. He employed these procedures for all of his Pinot Noir vintages (1986-1994) at Morgan and then took this knowledge to a General Manager position at Bernardus Winery. Finally, in 1996, on his own and ready to fulfill his dream, he released Arcadian Winery's first vintage of Chardonnay to rave reviews.
Utilizing his 35 years of experience, following his instinct and creating Burgundian style Pinot Noir, Chardonnay and Syrah allows Joe Davis the complete realization of his dream. His mission remains to make wines that fully express the uniqueness of the vineyard and the region while capturing the voluptuous flavor of the grape and the kiss of cool California breezes and warm sunshine.